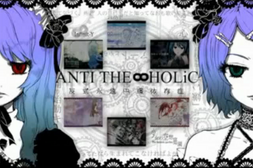 Anti The Infinite Holic is a song sung by Luka Megurine and Rin Kagamine, and made by cosmoP.
The lyrics are a bit vague, but there are theories that it is about alchemy, mathemetics or time and space.
Japanese Lyrics
Romaji Lyrics
English Translation

「さぁ! 始めようか 未来の 真贋 しんがん鑑定を」 「ああ! 騙されるな 永遠 嘯 うそぶく錬金術に」

"saa! hajimeyou ka mirai no shingan kantei wo" "aa! damasareru na eien usobuku renkinjutsu ni"

"Now then, shall we begin judging the authenticity of the future?" "Oh, don't let the forever exaggerated alchemy fool you"

始まりは  失亡 しつぼうに 呼び覚まされた 心猿 しんえん やり直し 組み直し 形変えど  可換 かかんに寄り添う 終焉 しゅうえん

hajimari wa shitsubou ni yobisamasareta shinen yarinaoshi kuminaoshi katachi kae do kakan ni yorisou shin'en

At first, passion is awakened in despair resuming, recomposing, even in a changed form, they meet the same demise

夜を 統 すべる魔物の王は 直心 ひたごころの 呵責 かしゃくに 潰 ついえ 溶かした 禁忌 きんきで 模 かたどりし神は 忘却の彼方へ 電子の並列自我は 星枢(せいすう)の腕に引かれ崩落 = 所詮 しょせんは生命の法則(ルール) 逸脱 いつだつした迷走 命操る神々でさえ  何 いずれ消え去る

yoru wo suberu mamono no ou wa hitagokoro no kashaku ni tsuie tokashita kinki de mo katadorishi kami wa boukyaku no kanata he denshi no heiretsu jiga wa seisuu no ude ni hikare houraku = shosen wa seimei no ruuru itsudatsushita meisou inochi ayatsuru kamigami de sae izure kiesaru

The devil who rules the night is wasted torturing honest hearts. Even with the taboos gone, phony gods are sent to oblivion. The electronic alter ego is drawn in by the arms of the sun's center and collapses. = After all, it was a stray that deviated from the rules of life. Even gods with command over life vanish at some point

理 ことわり 公式 全ては 裏返される

kotowari koushiki subete wa uragaesareru

Reasoning, formula, it'll all be turned upside down

ああ! 世界に生(しるし) 偽 いつわり付しても ああ!  破戒 はかいの 罪代 つみしろ 積みながらに 掻 かき消える 求めたのは 延長線ではない 過去 未来 現在(いま)を  貫 つらぬくく 並行閃光(レイ)

aa! sekai ni nama (shirushi) itsuwari fushite mo, aa! hakai no tsumishiro zuminagara ni kakikieru motometa no wa enchousen de wa nai kako mirai genzai (ima) wo tsuranuku heikou senkou (rei)

Oh, even if the evidence is falsely handled by the world, oh, broken laws disappear as they gather up, what we've sought after is not a straight line. It's a ray of light that pierces through the past, the future, and today.

motsu mono mo motazaru mono mo itsuka itaru michi no hate yukidomari tachidomari kiseki tayori jisetsu toiu gu okasu

Those who have and those who don't will one day both arrive at the end of the road. Dead ends, standing still, depending on their paths, they'll commit a folly known as autotomy

yakusokusareta antei wa kentai ga subete kurai tsukusu (tanjou) shoushitsu orinasu bunka wa misekake no junkan rinne no renai tan wa ransuu akuma no zankou ni ochiru shosen wa toki kakeshi ruuru mokusatsushita tonsou toki wo ayatsuru kamigami de sae nogarerarenai

Conventional stability is devoted to consuming all fatigue. The diva who interweaved birth and death is a cycle of pretense. The love story of samsara falls into the trench of a random numbered demon. After all, it was a fugitive that ignored the laws of time. Even gods with command over time cannot escape it.

unmei shinjitsu subete wa kakikae kanou no (shishitsu yokuatsu sakushu dangai kakusa kiun... sura ) shinario

Fate, truth, it's all possible to rewrite (Even...disposition, suppression, exploitation, accusation, disparity, opportunity are story elements)

aa! agameta kako wo tojita enkan wa, aa! yagate yakikireru hakanai tanraku kairo wasureteita sekai toiu rifujin wa wo nukemamieru risou no kai

Oh, the closed off circle of the revered past, oh, is a short circuit that will soon burn the forgotten irrationality known as the world. Its ideal solution is found when the circle comes loose.

saa! sekai wo kataru kagi wo funsaishi, saa! shikai to magou feiku ruupu ni shuushifu wo rekishi no kusari kara tokihanatareta warera ni tsuzuku monotachi wo nozomi matou

Now, smash the key that deceives the world, now, bring an end to the ostentatious eternity mistaken for the ashes of the dead, released from the chains of history. Let us wait for the ones who will continue our story.